order by phone or email
Phone: (902) 443-FISH (3474)
Email: retailsales@fmii.com
*Delivery and curbside pickup available
Visit our retail store
607 Bedford Highway
Halifax, Nova Scotia, B3M 2L6
Mon to Sat: 9AM - 6PM
Sunday: 11AM - 6PM
ordering online
Shop online and we deliver to your doorsteps. Monday - Friday Only.
Shop Online For Premium Seafood
Fisherman's Market - Quality Seafood & Lobster
Welcome to Fisherman's Market, the ultimate one-shop-does-it-all fishmonger. We're a retailer, wholesaler, and exporter of fresh, frozen, smoked, and salted seafood. We're world-renowned for serving up mouth-watering live and frozen Atlantic lobster. And we're involved in every aspect of the fishing industry—from our boats and buying stations right at the wharf, to hand-filleting more than 20,000 pounds of freshly caught fish, each and every day.
Read More
A Significant Past, A Sustainable Future
Sustainable seafood is seafood that is either caught or farmed in ways that consider the long-term vitality of harvested species and the well-being of the oceans, as well as the livelihoods of fisheries-dependent communities. We source products from around the world with the intentions to promote sustainable products for our customers.
Learn More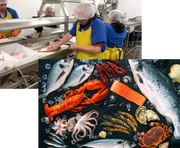 Responsibly Sourced, Responsibly Prepared
Since 1948, Fisherman's Market Fisherman's Market has led the way in providing authentic Atlantic seafood. We were one of the first federally regulated seafood plants in Canada, and we continue to go above and beyond globally recognized certification programs throughout our handling, preparation, and storage processes. You can be confident in every Fisherman's Market product you bring home.
Peter H.
"If you want great, reasonably priced seafood, with knowledgeable staff, this is the place... It's the next best thing to knowing a fisherman or living in a fishing community."
Sarah M.
"Great selection, everything looked super fresh and lots of unique items as well. I bought a cooked hard-shell lobster that had been steamed that day. Love the convenience of having it already cooked."
Denise G.
"Excellent prices! I paid half the price I would have paid elsewhere for a large quantity of shrimp."
Micah S.
"Coming from Boston where fish markets are generally professional and knowledgeable, I was beyond blown away by Fisherman's Market. Everything was delicious."